The UAM Orchestra and Choir
The UAM Orchestra and Choir (OCUAM in its Spanish initials), have been run since 1995 within the university community of the Universidad Autónoma de Madrid and, since 2010, has been managed by the FUAM. Their structure consists of a director, Enrique Muñoz, who has held this position from its inception, and an average of 130 musicians and singers between both the orchestra and the choir.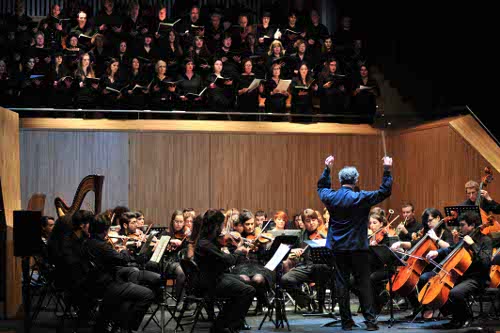 The OCUAM carry out a great deal of work within Spain and abroad for the promotion and diffusion of culture in general, and of music in particular. Their activity is especially recognized in their recordings. As musicians and singers, they have represented the UAM and Spain as enthusiastic ambassadors of music and academia in different parts of the country and abroad, enjoying renowned success. They have performed in the most important music halls and auditoriums in the country, including the National Auditorium, where they put on an end-of-season show each year. They were also called up by the Council of the European Union in 2009 to perform Beethoven's 9th Symphony to celebrate its anniversary and were summoned by the Spanish Olympic Committee in 2008, 2009 and 2010 to perform for his majesty the Prince of Spain. They have been invited to perform at important festivals for a number of seasons, including the COMA festival, and the Festival of Sacred Music in Madrid, Crete (Greece), Lisbon (Portugal) Paris and Angers (France). The OCUAM has recorded two CDs: one dedicated to French music and the other dedicated to the music of Spanish composers who were exiled during Franco's dictatorship (Carlos Palacios, María Rodrigo, Ignacio Nieva and Manuel de Falla). Recently, a DVD was recorded with a concert in which the orchestra played Beethoven's 9th Symphony, together with a documentary. The OCUAM is currently working on a version of Verdi's Requiem, as well as a recording of Enrique Muñoz's Requiem Negro.
OCUAM Music Hall
The creation of the Music Hall has reinforced the role of the OCUAM as an institution within the university community, not only in terms of its artistic value, but also when it comes to its social and educational function. The UAM Musical Training Hall has achieved its main objective of offering a service within the UAM that allows anyone with a link to the university to learn an instrument, take singing lessons, or simply enrich their musical knowledge. It is also a source of new young talent for both the Orchestra and the Choir, offering musical training at different levels, adapted to the demands and needs of the members of the university community. The hall has also facilitated the professional development of its teachers and the heads of department in the Orchestra and Choir.